There are a lot of gorgeous papers out there for letterpress. I had the privilege of getting to work with some handmade paper. This was both a challenge and a really great experience.
Here is a little peek into the process and some notes on working with Handmade Paper.
SIZING:
First things first, handmade paper either needs to be made at the final size or torn down to size. Hand torn deckles work better for lining up on press, but true deckles have a more natural feel.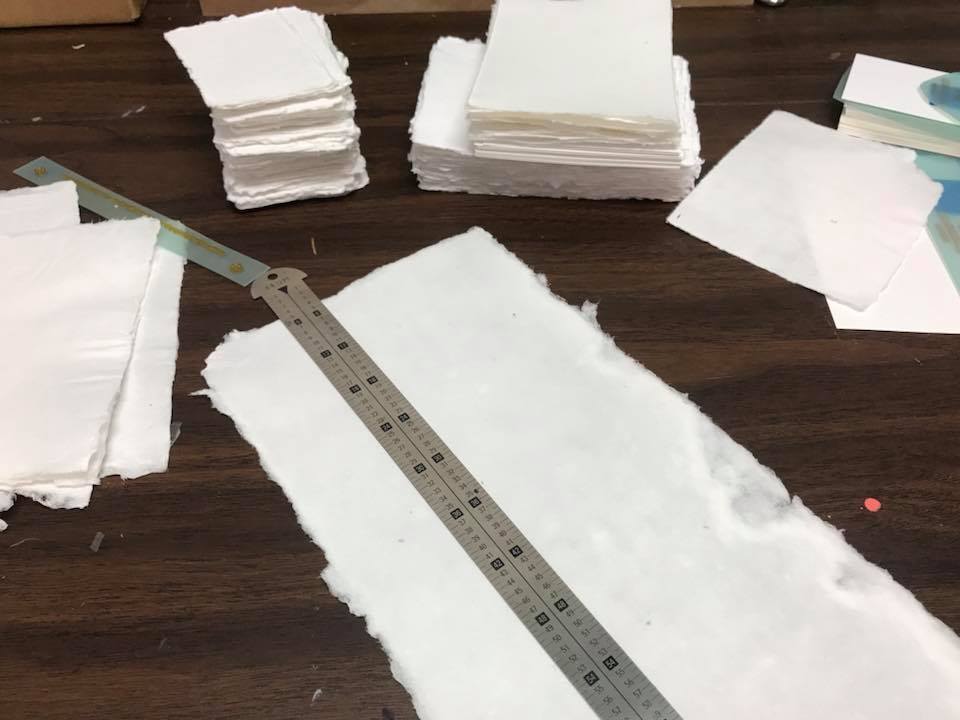 In this project I used some made-to-size deckled paper and I tore down some from extra stock I had made.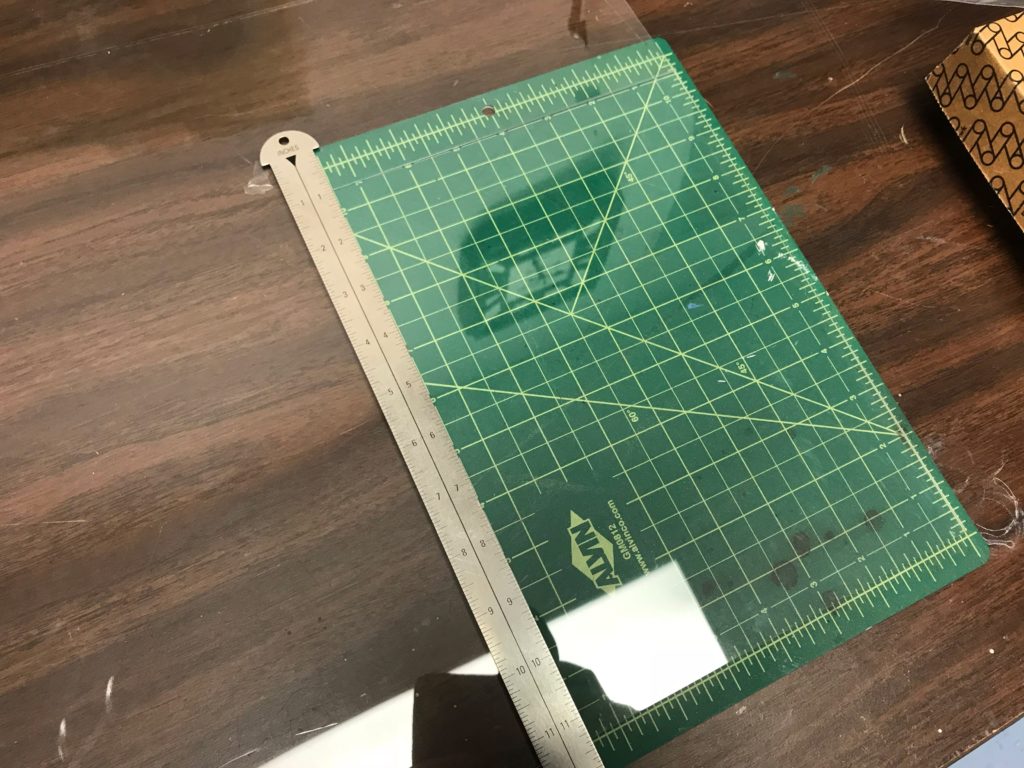 For tearing down I just marked the measurements with a pencil and used a metal strait edge to hold it down. Tear towards the ruler and you'll find you have an easier time.
COLOR:
For this project we had some color match challenges. It can be really hard to find the right color Pantone when you're working from a computer. Sometimes I will hand mix to match a screen color (which can be tricky as colors look different on different screens), but I always start with a Pantone. Starting with the closest Pantone allows me to waste the least amount of ink – I can mix to a close color and then tint it in the direction the client needs.
I personally find grays to be the hardest to mix – there is a huge range in town from warm to cool, and using opaque white makes it hard to push the gray in a warm direction as it tends to add a blue cast to the gray.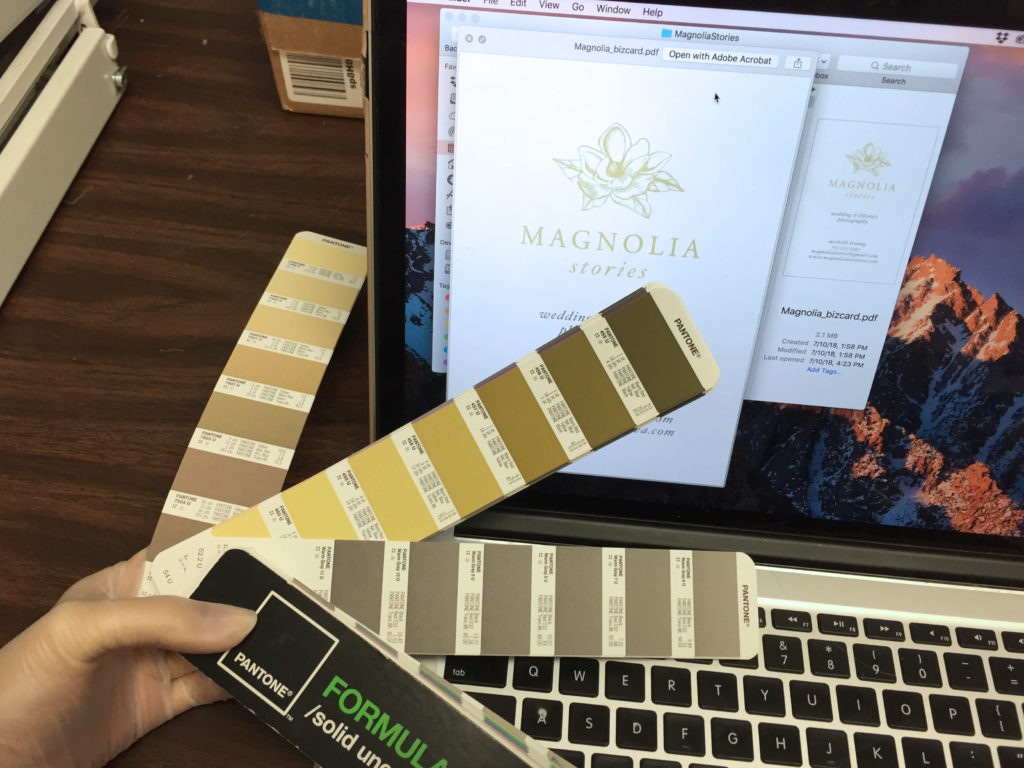 For the main logo, after some adjustment, we ended up with a lovely mustard. This color evokes the bright center of the magnolia flower, and makes a gorgeous bright gold substitute.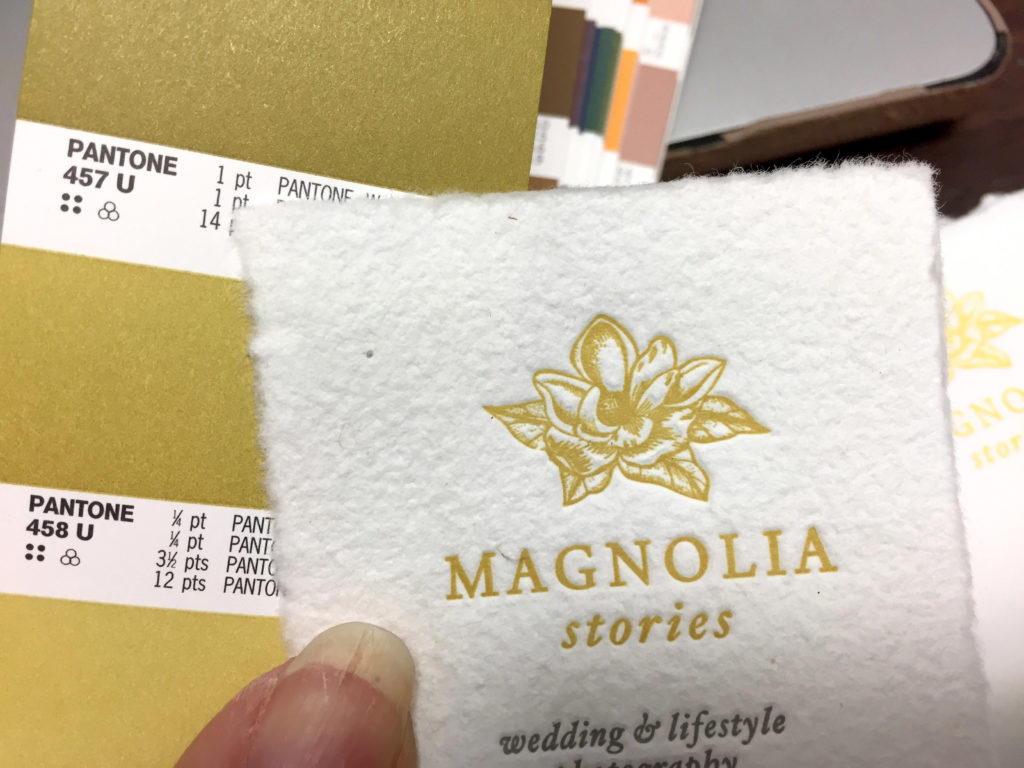 In this image above you can see the torn deckles – they re more even.
Here you can see the true deckles – they are softer, thinner, and uneven: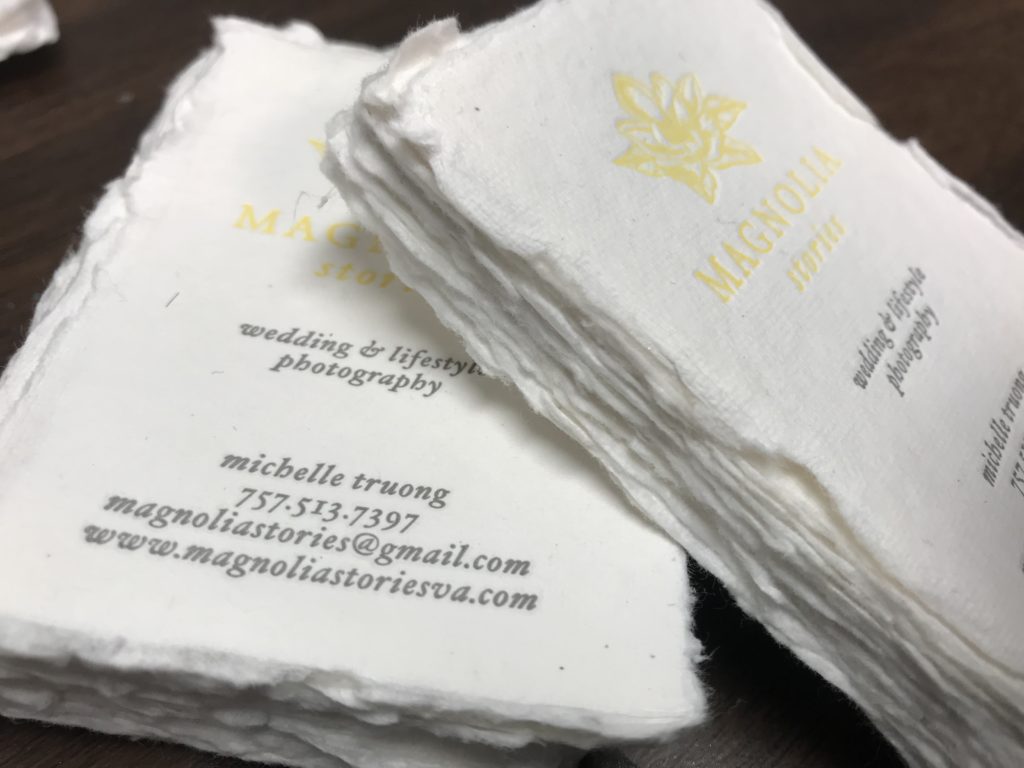 PRINTING:
The challenge with printing handmade paper is line up. For this job the design was very well suited to handmade paper as there is no critical lineup and the colors are far enough away from one another that you won't likely notice any slight misalignment.
Normally, oddly shaped papers aren't an issue as even if the paper is crooked – as long as both colors are lined up using the same corner of the paper – the image will be perfectly registered. With handmade the soft deckles compress – and may compress differently each time it is fed.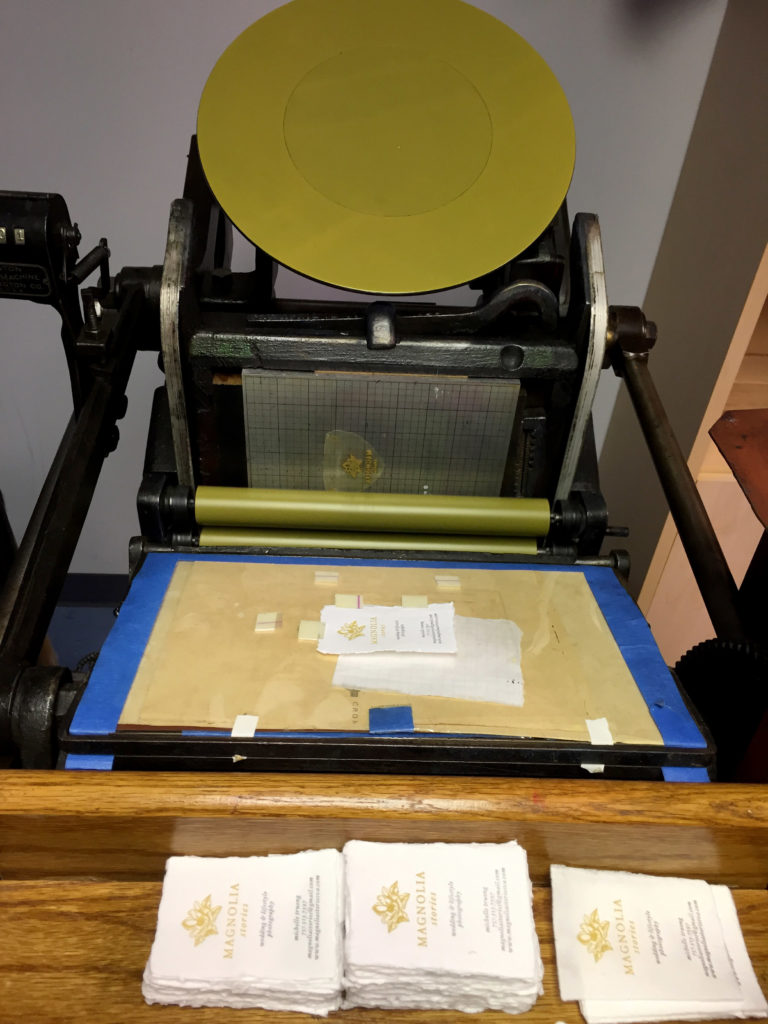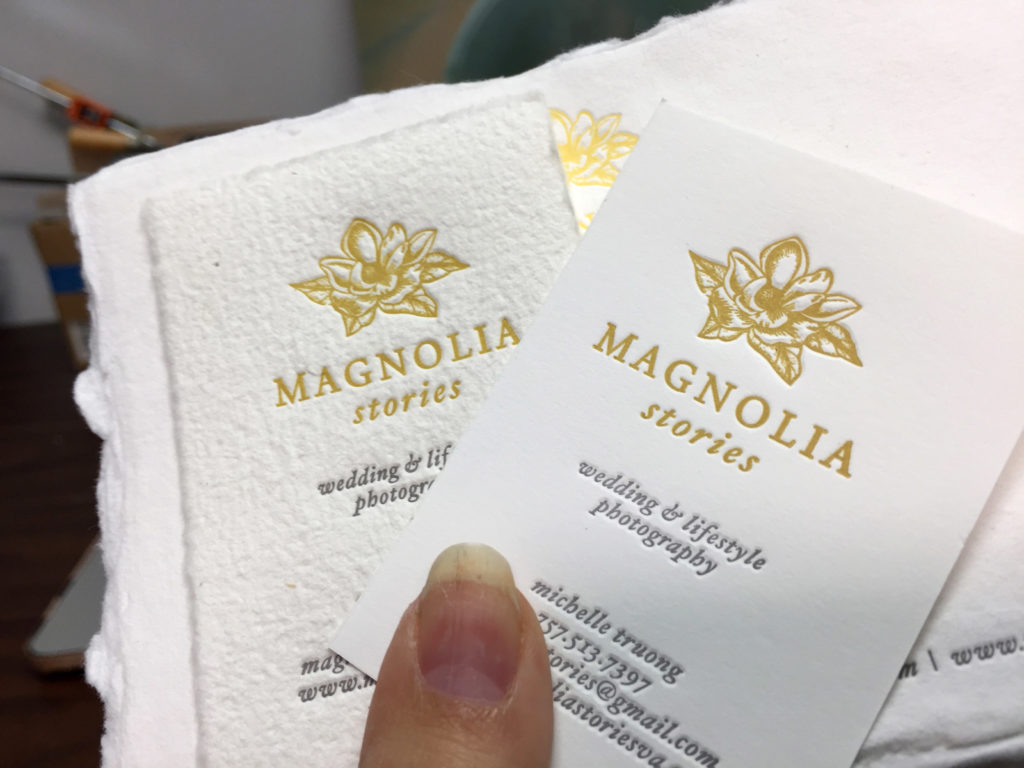 Here you can compare the deckled edge, the torn edge, and a straight cut sheet which I used for line up. It is better to line up to a true rectangle and then adjust for the deckles if needed as this ensures the image is more even across the whole group and more in line with itself across different press runs.
If I lined up my design using a deckled sheet I might not catch if something is crooked as the deckled sheet might feed differently when I line up the second color.
CONCLUSIONS: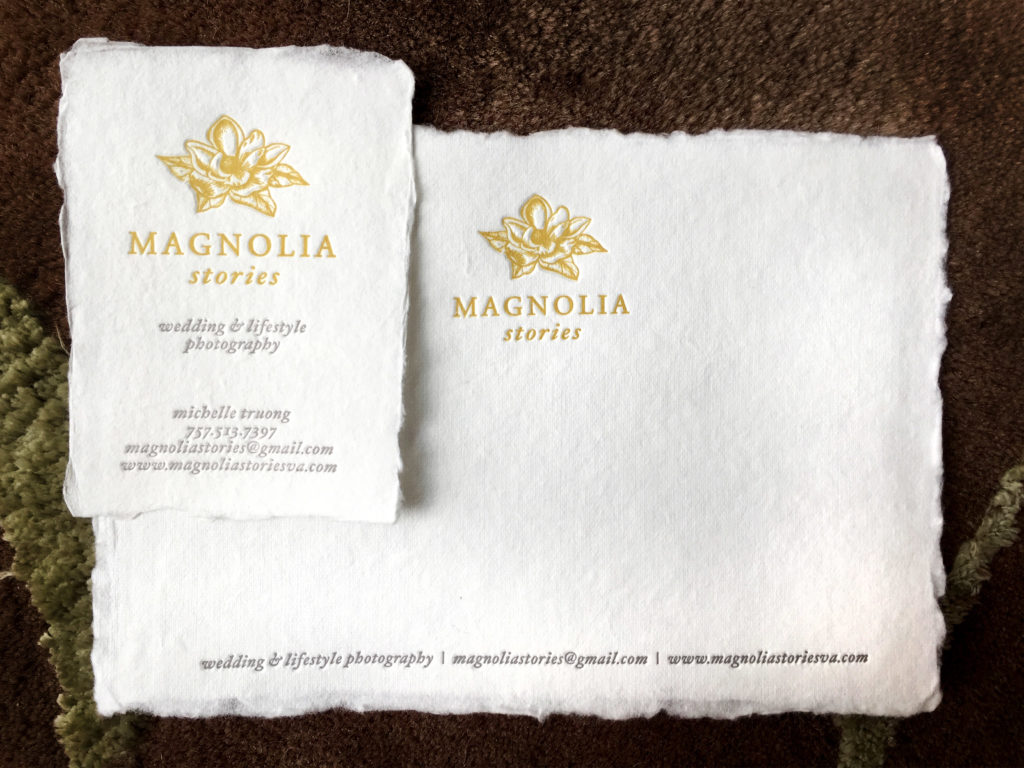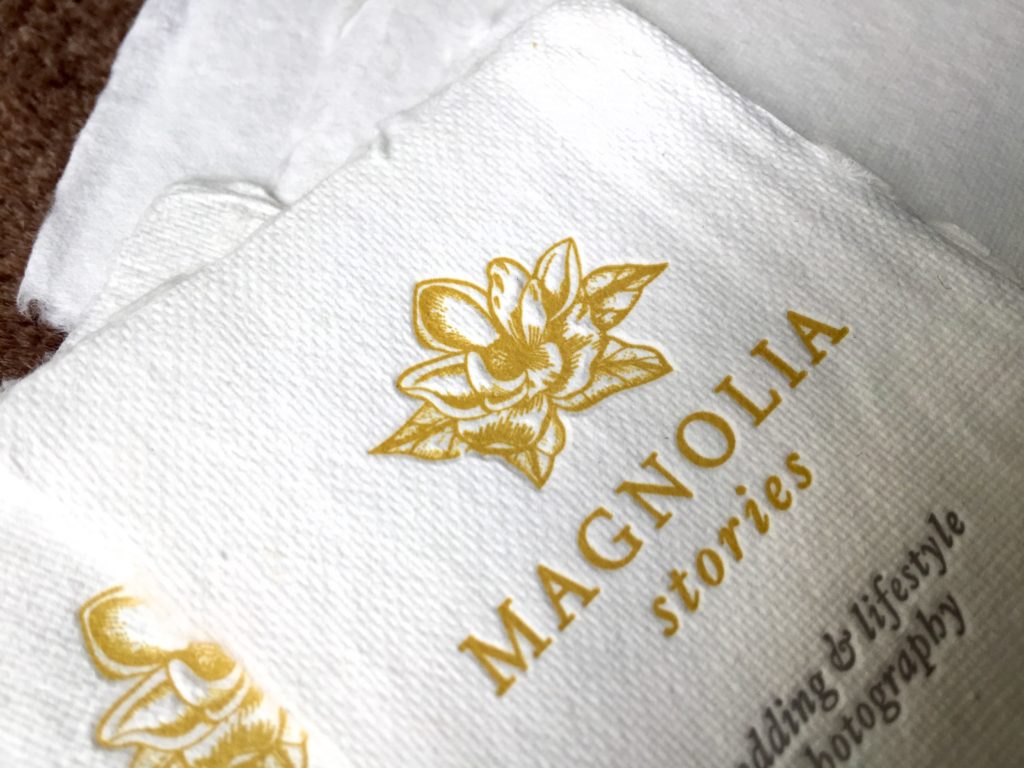 Deckled paper is awesome, but it isn't for every job. Here are my pros and cons:
PROS:
Gorgeous texture – nothing matches the natural feel of handmade paper, every single sheet is a unique work of art.
Sustainable – if you buy recycled handmade paper, cotton paper or purchase from a small paper maker you can make a small impact with your prints.
The deckles are beautiful – they have a soft feel and really wow those who see them.
Soft, luxurious impression – Handmade papers take gorgeous deep impressions
CONS:
Designs cannot have any critical lineup – even lining up straight lines across two colors will be a toss up. Hairline lineup would be impossible without a lost of waste and tons of luck.
Cost – handmade paper is, well, handmade. It comes with a matching price tag in many cases.
Loss of Detail – Hairline details can sometimes get a bit lost of handmade paper due to the uneven texture. Harder papers take better detail, but show less impression.
Hard to feed – This soft paper is a bit more of a challenge to feed, you have to go slow.
Sizing – For some printers (or presses) printing on paper that is already final size is a problem. In my case it's not an issue, but handmade paper cannot be cut down without losing its signature edges. Tearing down edges takes a long time, and will not look the same as the natural deckles.