Paper is one of the most magical things about letterpress. Letterpress opens you up to so many wonderful substrates that digital printmaking can't work with. There are so many letterpress papers – you can print on just about anything honestly – wood grain sheet paper, cotton papers, coated papers, uncoated papers, handmade papers, plastic etc. This is just a small sampling of what is out there, but I hope it will give you some insight into some commonly used papers and why you might choose them.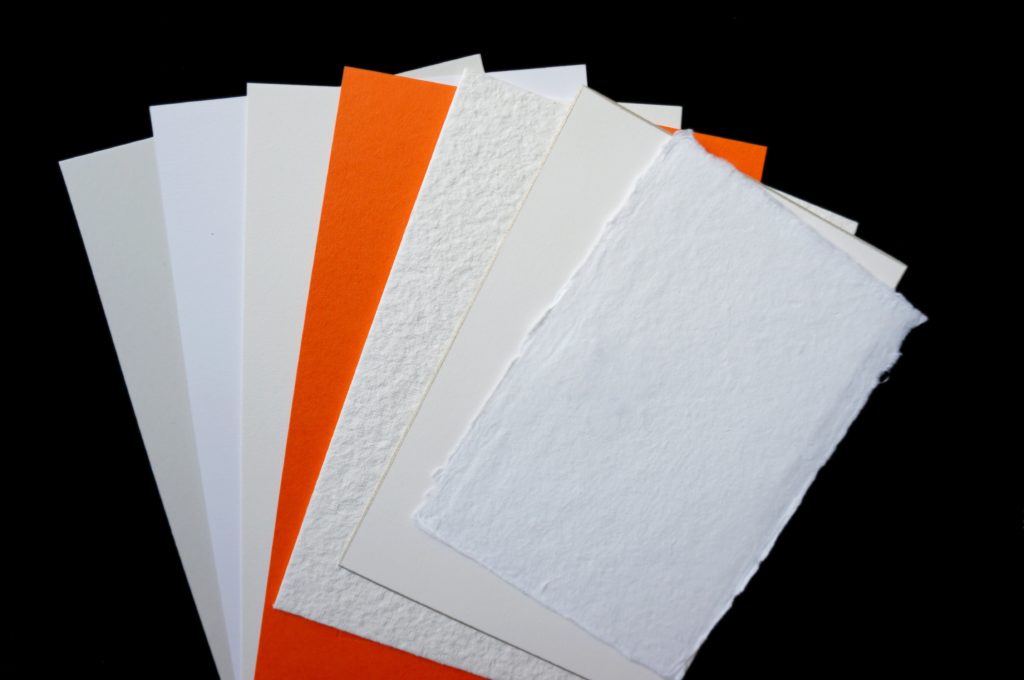 CRANE LETTRA | Check them Out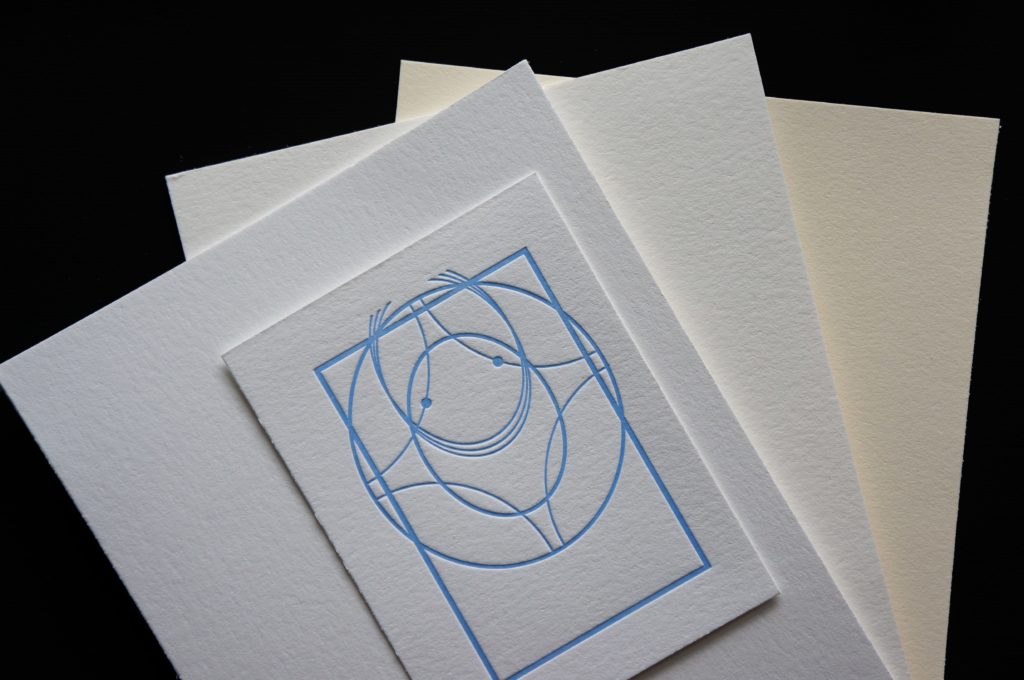 Crane Lettra is one of the most well known papers in letterpress and the reason for it's popularity is its range of weights and it's reliability on press. It takes a nice impression and comes in three main colors (White, Pearl, and Ecru). This is the most common paper my clients ask for – mainly because it's what they know and what they've seen before. It's not cheap, but it's in the middle range as far as letterpress paper goes. Crane also has a Cranes Colors line – which is a similar cotton paper that comes in a variety of colors but only one weight that I know of.
+ The Good
Predictable and Reliable
Variety of weights from text weights to 600gsm
Takes well to dampening when needed (for printing large solids)
Cotton paper is environmentally friendly (no chopped down trees)
– The Bad
Does not fold well even when scored / tends to crack
Softness means it's not the best choice for some images such as halftones which tend to fill in more on soft papers
Dulls your blades when you cut it
COLORPLAN | Check Them Out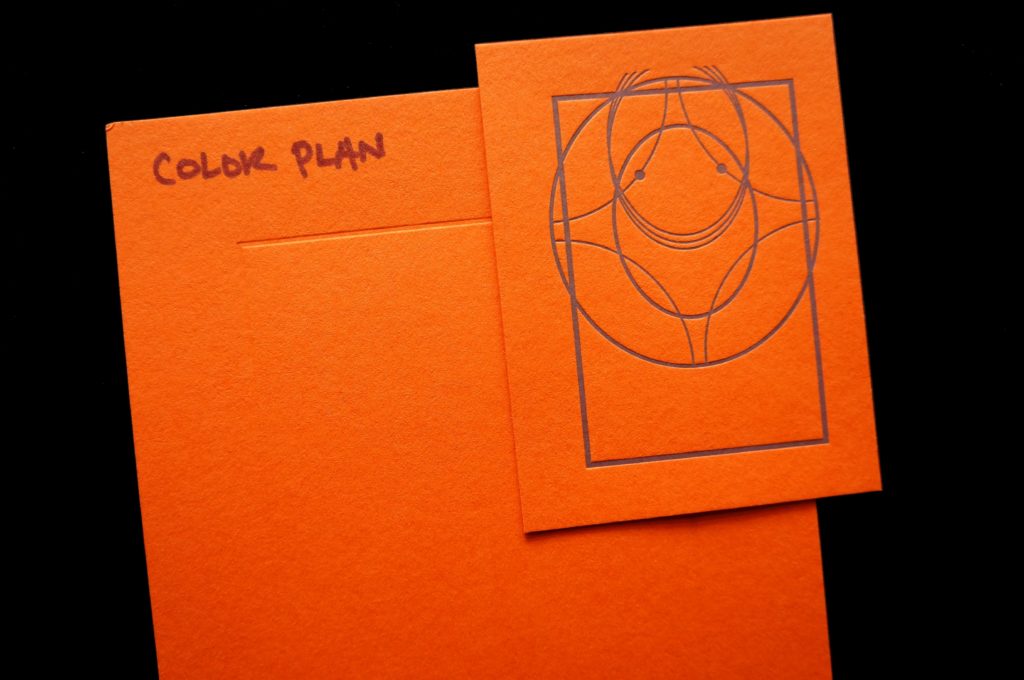 Colorplan is a great choice for when you need a colored paper. It comes in 50 colors and 8 weights (up to 700gsm). It is bright, easy to print on, this is a great choice if you need a heavy colored paper for any reason. There are a million beautiful ways you can use this paper. It can be purchased with embossings as well.
+ The Good
Range of colors and weights
Predictable
Slightly harder/denser than lettra making it good for certain prints
–  The Bad
Hard to find – you don't see this around many shops and it's not super simple to order from their main website, like many letterpress papers you have to find a secondary dealer to order cut sheets
Not every color comes in every weight. At the moment only 4 of the colors seem to be available at the 700gsm weight.
WILD | See more here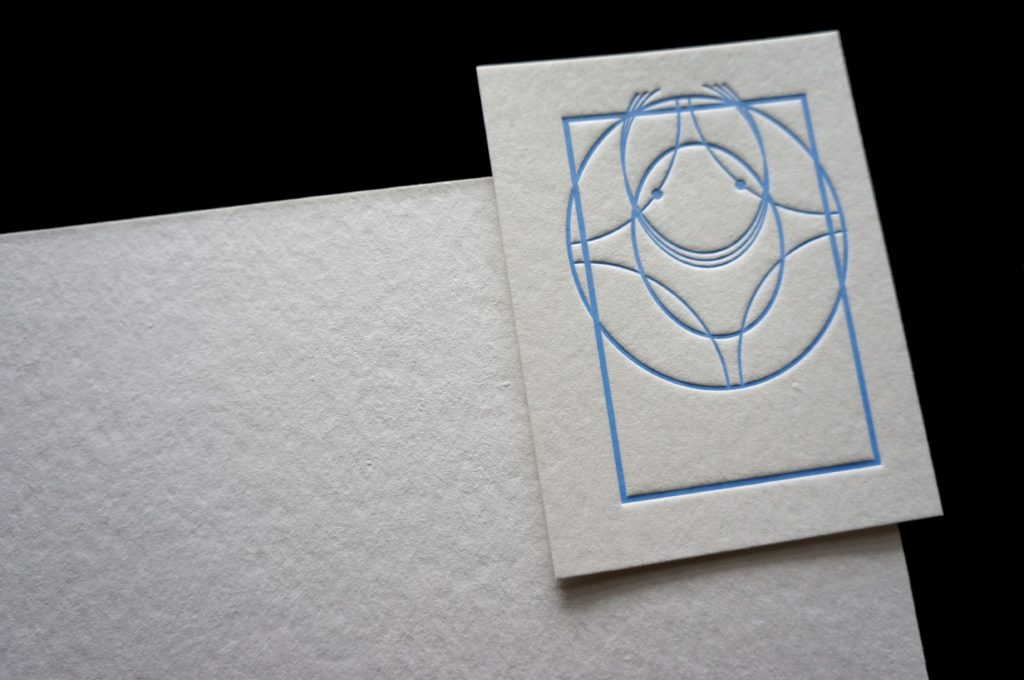 I love Wild paper. This paper has a nice subtle watercolor texture that really offsets sharp lines and text. It also comes in an insanely thick 850gsm weight. This 35% cotton paper is made in Italy paper and prints easily, taking fluffy striking impressions. I used this paper on my own wedding invites if that tells you anything.
+ The Good
The impression – it's rich and luxurious
Gorgeous texture
– The Bad
No matching envelopes available at the moment
Pricey
Only one color – a soft, natural white
Dulls your blades when you cut it
FRENCH PAPER | Check them Out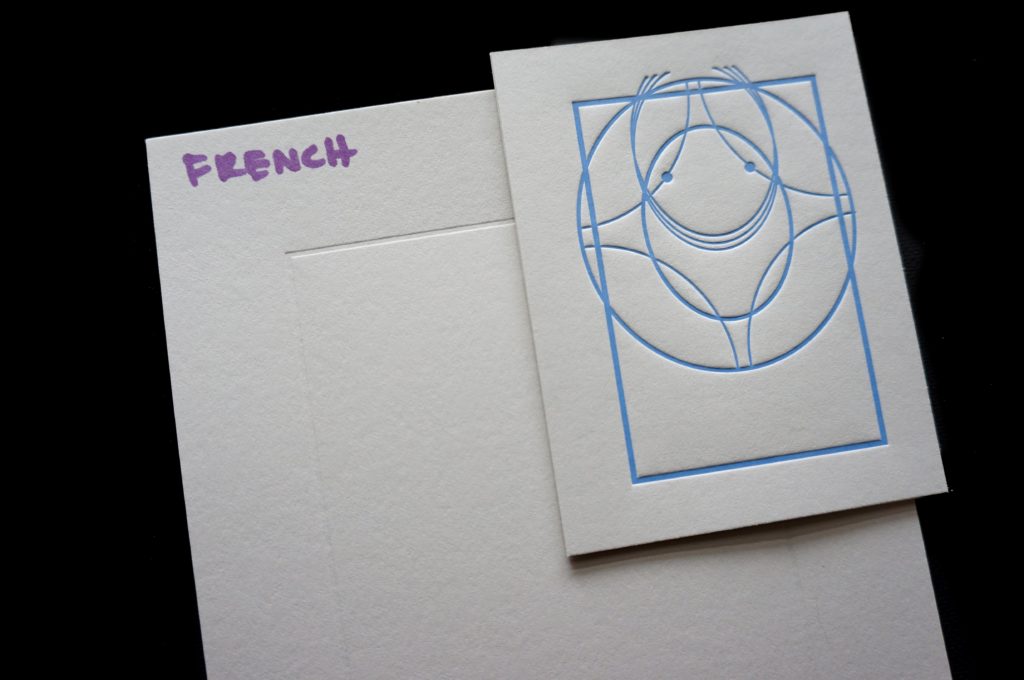 When I need a colored paper I generally buy French Paper. It has a million uses and comes in an unbelievable range of colors, finishes and weights. The thing I like about French is I don't have to find a distributor – you can buy anything right from their website and browse easily based on weight, color etc.
+ The Good
Range – there are so many choices
French also works for many digital printing methods
Envelopes galore
The harder surface makes this paper easier to cut that some cottony types
Ease of ordering
Good Pricing
– The Bad
Heaviest weight is 140lb cover
SMALL BATCH HANDMADE (Deckled) PAPER
Here you can see a comparison between handmade paper and Accent Opaque. Handmade papers add to the mystique of letterpress and really make printed products feel one of a kind.
+ The Good
Gorgeous – each piece is a masterpiece all itself
The deckles are really unique, they will stand out
Environmentally friendly – often made from cotton or recycled materials
Can be made and dyed custom by your paper maker, can have bits of petals, seed, or glitter embedded.
– The Bad
Hard to source in big quantities – you'll need to check places like Etsy
Generally needs to be made at final size – otherwise you'll have to tear it down and will lose the natural deckles
Expensive
Different from batch to batch – each piece and batch is unique (this is maybe a + maybe a – depending on what you're going for)
If you leave the deckles you cannot have hairline line up – it is hard to feed the same each time you print.
Accent Opaque Digital (+Other Digital Papers)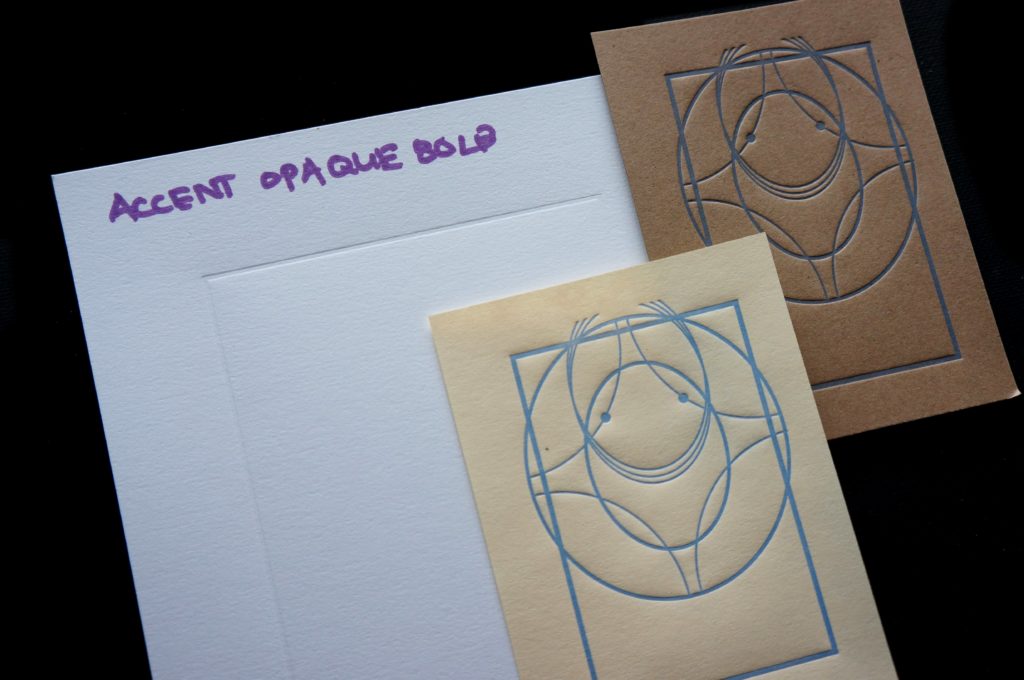 The white paper in the photo above is Accent Opaque Digital paper. What is awesome about this is that you can inkjet print on this paper, and it takes a nice letterpress impression. This is awesome for folded cards or prints that will be mounted (where the thickness of other fancy papers won't show or matter).
For comparison you can see a sheet of ecru copy paper, and a piece of brown bag cardstock from a pack at Michael's Craft Store. It goes to show you can print on anything – even cheap papers. The issue with cheap/too thin papers is that can pucker or wrinkle (as seen clearly with the ecru sheet). That, and if you cheap out on paper sometimes you're missing the best thing about letterpress – the artistry and luxurious, one of a kind feel of the impression.
+ The Good
Can be printed digitally first and then letterpress printed after (this opens you up to so many cool options, but don't expect perfect hairline registration unless you hand cut the digital down to crop marks perfectly)
Nice weight and feel for cards
Scores and cuts like a dream
Less expensive than most other papers on this list
– The Bad
PRICE PAPER BEVELING | Find out More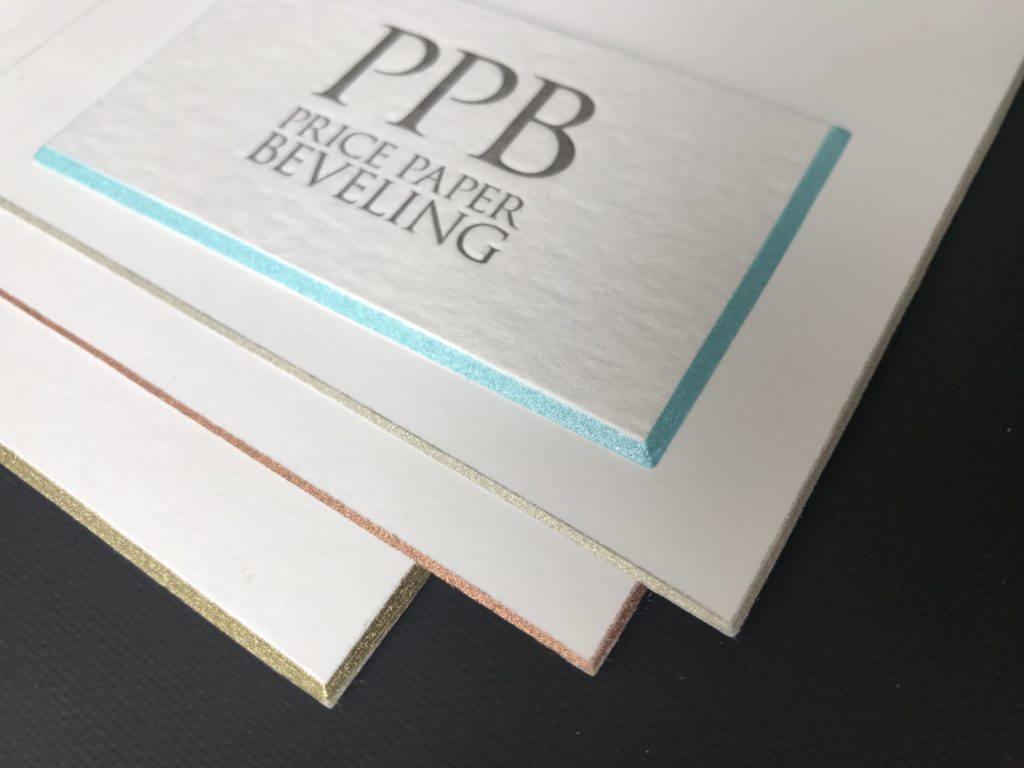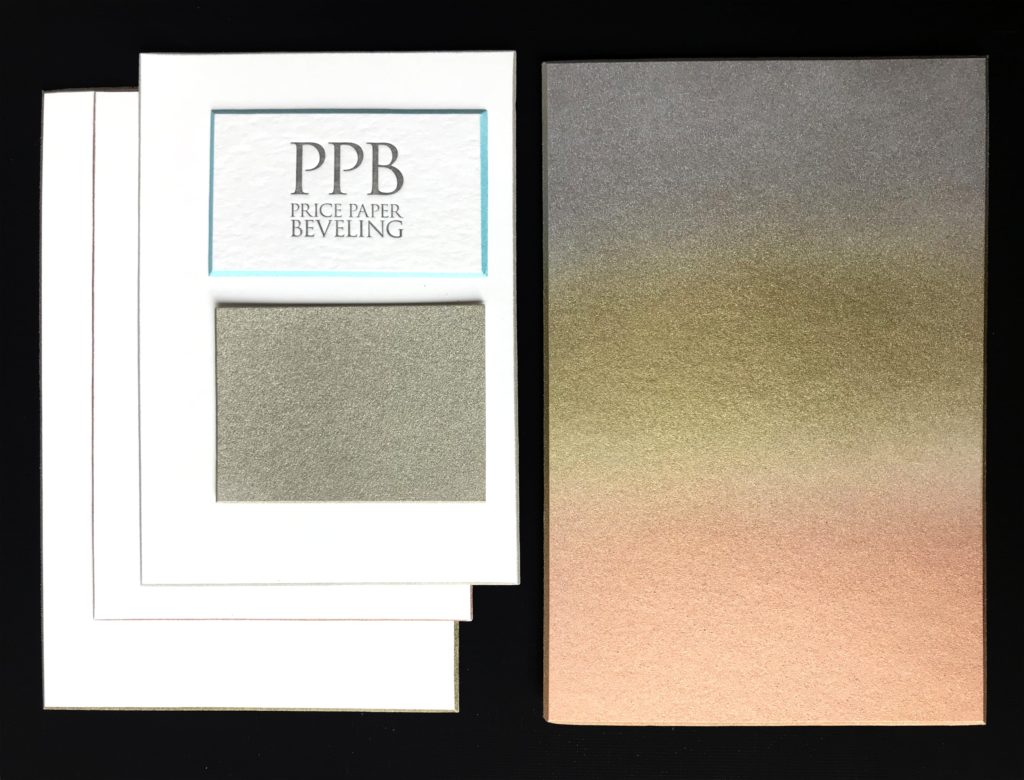 If you want wow factor – look no further. These beveled and edge painted sheets will stun with even the simplest one color print. The beveled edge is unique in that it really shows of the edge painting to best effect. They offer three edge colors currently (copper, gold, silver) in two weights and can do custom colors.
+ The Good
Beautiful – you barely need to do anything to it for it to stand out
Easy to print – the smooth surface takes most prints well
Fast on press – when you get paper already cut to size and ready to go, all you have to do it print it. For someone like me who works in small sizes this is awesome.
– The Bad
Cost – hand made papers of any kind come at a premium
You cannot cut it down after – for obvious reasons you must work within the size of the product you get from them, this means full bleed images are not ideal for this (they would smoosh the bevel)
Needs care when feeding – don't smash those gorgeous bevels!
DON BOSCO | Learn More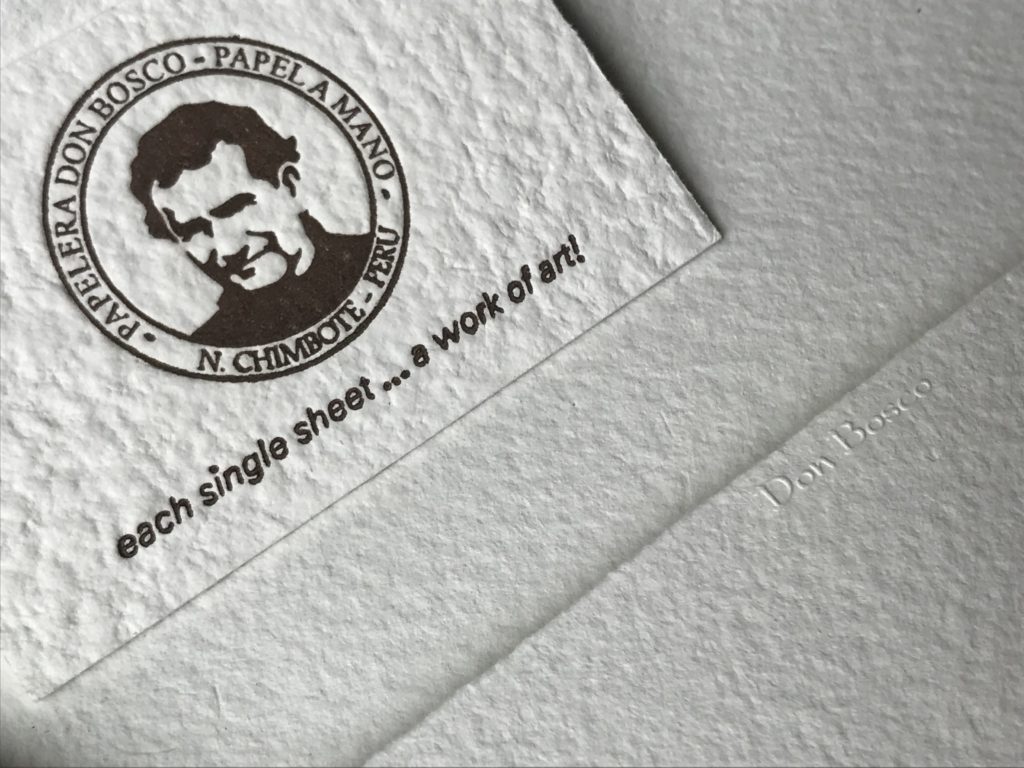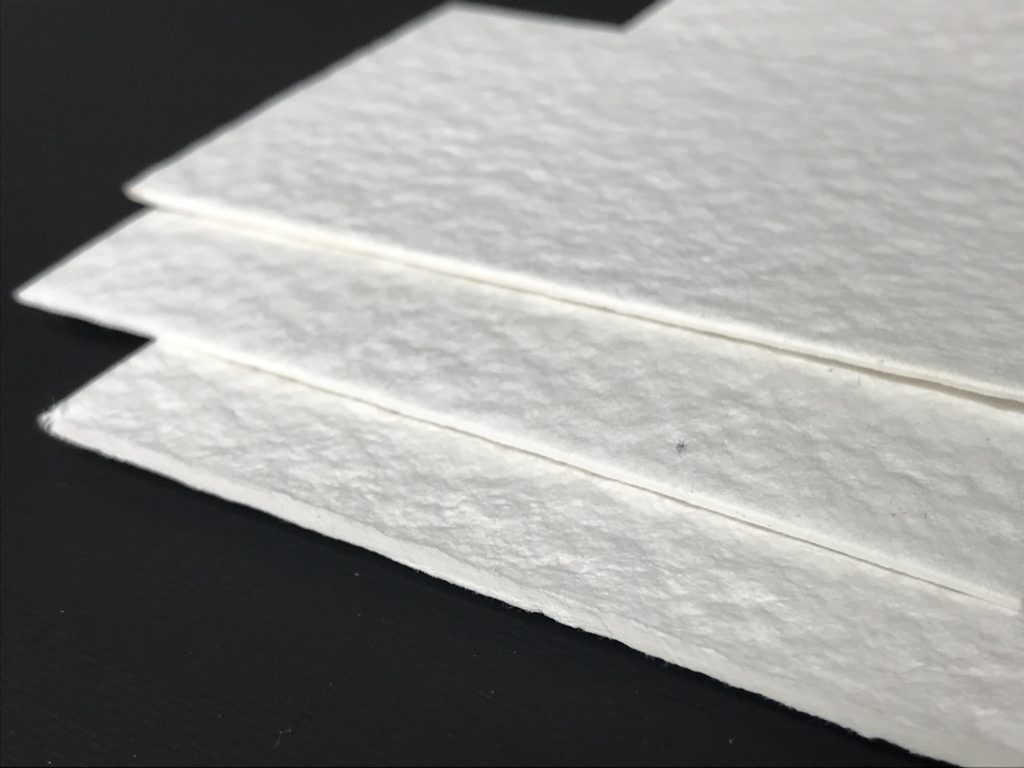 I haven't had the chance to print on this paper personally ( I only have a few samples) but it's just beautiful in person. It comes in super thick weights and has a texture unlike anything I've seen before. The samples cam already printed with an embossing and a letterpress logo so I'm certain it will take a nice impression.
+ The Good
TEXTURE – if you want something with a gorgeous hand feel this is it
Weight – if you want heavy – this is heavy
They run the Chimbote Charity Project in connection with this paper meaning that you are supporting the Peruvian artisans who make this unique paper (check out their site for the full story)
It can come with deckles
– The Bad
Getting your hands on this is not easy – you have to order it directly from Italy at this time.
I have no idea how much it costs as I haven't had a project done with it yet
PRECUT CARDS | Cards & Pockets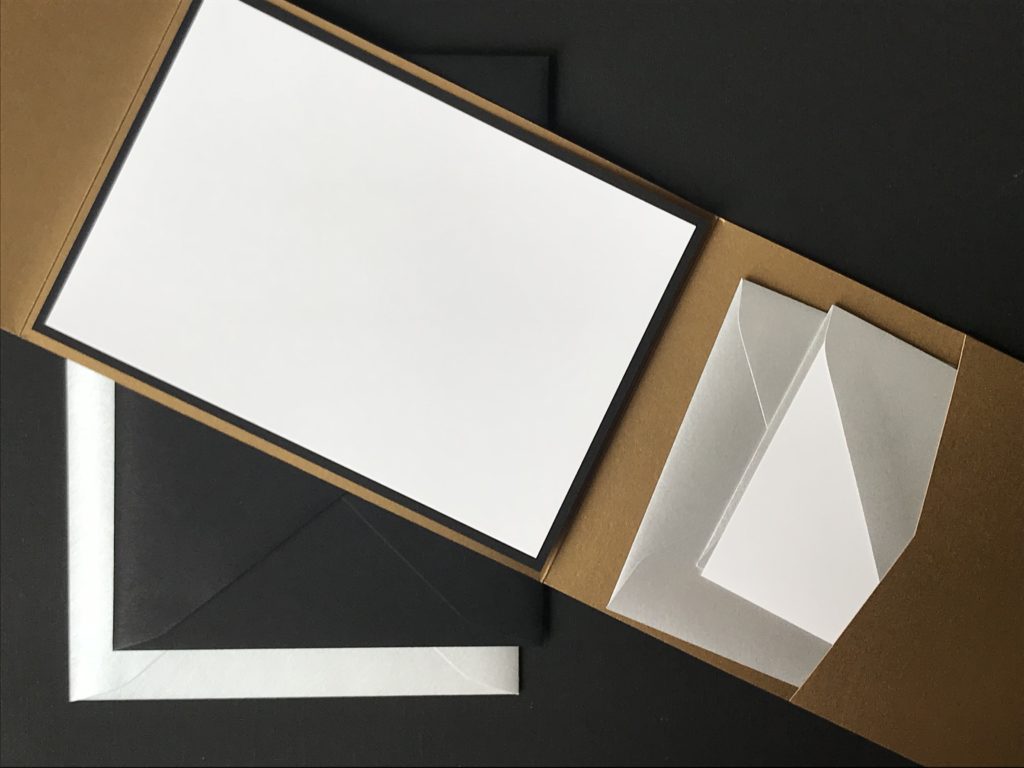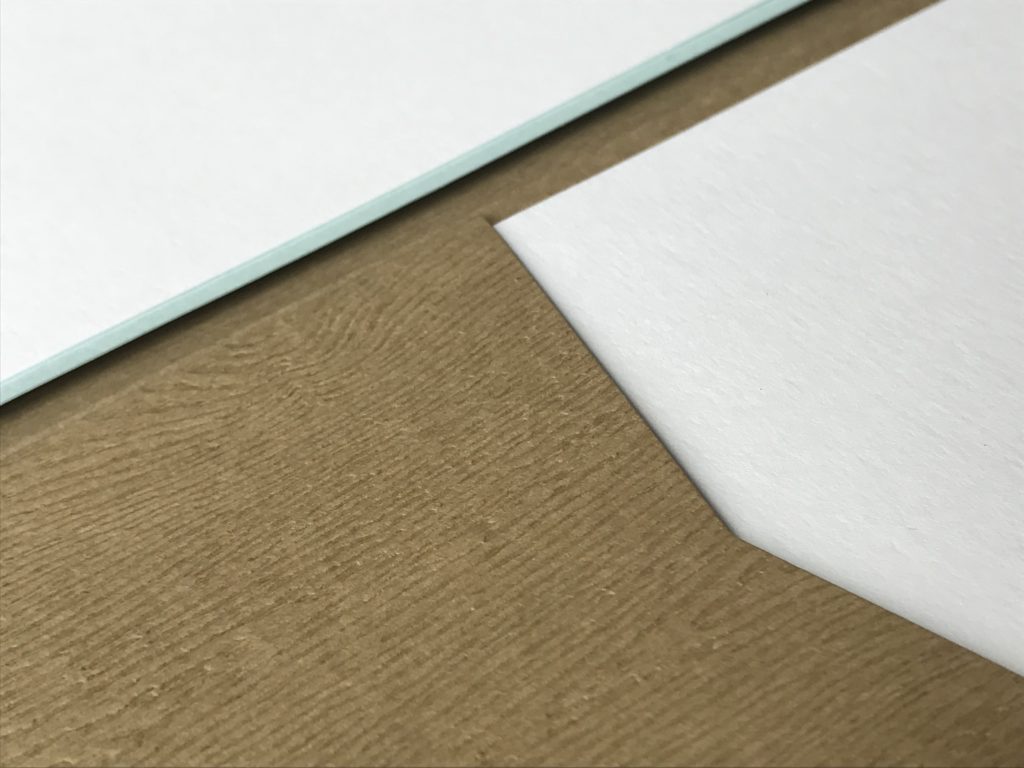 You want easy? Don't have a paper cutter? Then precut cards from one of the many companies that sell them might be a good option. The paper itself is nothing special, but the fact that you can order mounts, envelopes, and pockets are perfectly cut to fit is great. Thinner papers are a better choice for pocket folder invite suites as the heavy weights make it hard to fold them close and fit them in the envelopes. I have found almost no one compares to the prices at Cards & Pockets (whose samples are featured above). Another great site for pocket folders and pre-cut cards is LCIpaper.com and PaperPresentation.com
I find the per card price on these precuts to be too high generally. Ultimately they aren't that much cheaper than Lettra per 5×7″ card. The advantage here is perfect consistency and ease. These sheets can also be run through a printer (though I haven't tested them myself).
+ The Good
Are you lazy like me? Then these are a great choice.
Ease of ordering everything from one place
Ability to combine digital with letterpress (though you should never do this expecting to get a hairline lineup)
– The Bad
Although these aren't expensive, they don't really save you that much money over using a heavier cotton paper.
The paper itself lacks wow factor if not used with all the fancy folders
CONCLUSION
In the end, there are so many amazing papers I haven't worked with yet. Neenah's Plike has a slick, fascinating surface I've been dying to try. Metallic papers like Stardream metallic papers (which I've often printed on for envelopes) also print well and have so much glamor. I'm also a big fan of Savoy which is similar to Crane Lettra but very slightly harder/slicker making is a bit better for edge painting. If you still find yourself lost after this post I'd suggest you experiment. Each paper works better for different applications and you'll only learn this if you try it yourself.
Check out the accompanying video here.